Live Sessions and Courses
Introduction To Bloom's Taxonomy
Bloom's Taxonomy is a hierarchical ordering of cognitive skills that can help teachers teach and students learn. In this course, you will learn about the original goals and development of Bloom's Taxonomy, the language and parts and functions of the taxonomy, and how to begin using it more effectively in your classroom.
While an introductory course, you will finish with a strong foundational knowledge of Bloom's Taxonomy, a powerful framework for clarifying and promoting thinking (including critical thinking) in your classroom. Further, Reflection & Transfer prompts help to strengthen understanding and support you in using the concepts and skills immediately in your classroom.
After completing the course you will be better able to avoid common mistakes in the application of the framework, have dozens of ideas and strategies for its use, and improve your understanding of the relationship between learning objectives, student thinking, and the design of lessons, assessments, and units you use to teach.
Ideally, this makes teacher planning a bit quicker and simpler, but more crucially, you can move beyond the mere 'levels' of the taxonomy to more fully integrate the original (and revised) visions of the framework into your classroom over time–from knowledge types and cognitive demand to metacognition, personalized learning, and a step closer to a critical thinking classroom.
6 Reflection & Transfer Prompts
Research Citation Page
100+ Power Verbs For Lesson Planning
Asynchronous Learning Spaces
Related Reading For Extended Learning
Check Your Understanding With Four Multiple-Choice Assessments
Who is this course designed for?
This course was created for practicing educators in K-12 and university-level teaching.
How long does the course take to complete?
Depending on existing background knowledge, including assessments and reflections, the average completion time is between two and four hours.
What else is available to help me grow as a teacher?
Ad-free access to thousands of articles, learning models, resource round-ups and more is available in our library for $5/month or $50/year. For a limited time, a lifetime pass is available for $99.
Join TeachThought Social Learning Spaces today for asynchronous discussion and micro-learning.
Ready-for-the-classroom teaching materials will soon be available, in addition to available video coaching, webinars, and live online events.
Lastly, dozens of additional courses will be available over the coming weeks and months.
Is there a money-back guarantee?
If you don't feel like the course benefitted you in your practice as an educator, contact Terry Heick directly for a complete refund of your purchase.
Lessons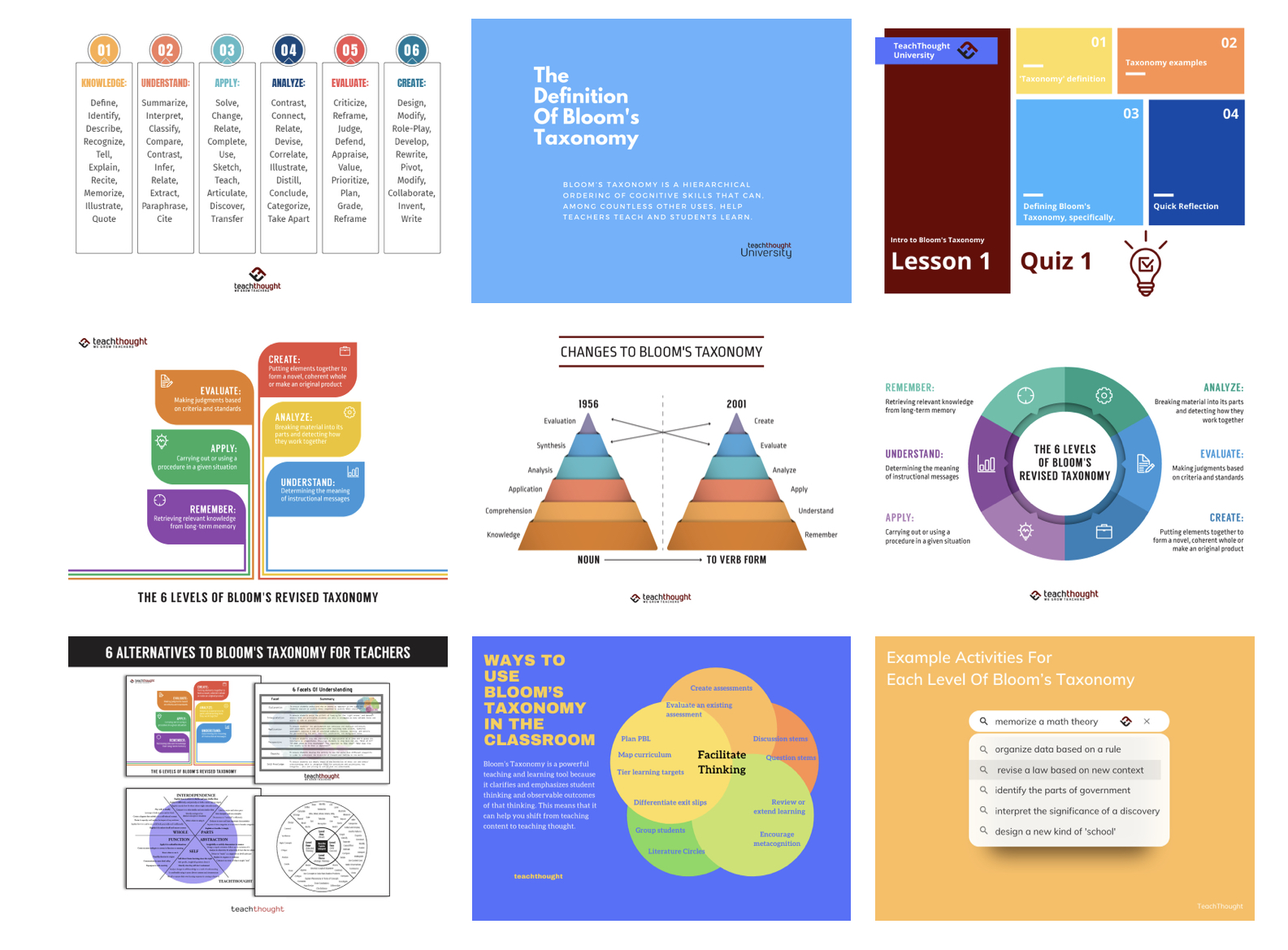 A multimodal approach to supporting teachers and their growth.
Microlearning
Though courses vary in length and requirements, many are designed to pinpoint granular skills and concepts in pedagogy.
Diverse
Our content is an intentional mix of strategies, resources, thought leadership, as well as learning models and frameworks that unify otherwise disparate silos of public and private K-20+ education.
Practical and Forward-Thinking
Our content is designed to offer practical strategies to help you teach today while tending toward the modern, progressive pedagogy of tomorrow.
Critical Thinking
Our core focus is on the practice, skill, and tendency for students to think critically. A shift from teaching content to teaching thought: Teach Thought
Project-Based Learning
As one example of many proven and progressive, and often research-based learning models, project-based learning can function as a unifying model to connect other 'pieces,' from education technology to assessment, student voice and choice, and more.
Pedagogy
Sustainable, innovative teaching that supports both teachers and students in improving educational intrapersonal and interpersonal goals and outcomes.
Innovative, sustainable teaching through thought leadership, strategies, resources, research, and more.
Acquire New Knowledge, Skills, and Experience Together!
Access social learning spaces to ask questions, review timelines by course or topics, sign-up for upcoming events and webinars, and more.